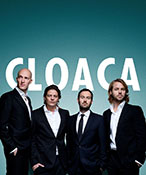 "CLOACA" is back!
After ten years "CLOACA" is back in The Netherlands. From the moment the play was on stage in 2002 at Het Toneel Speelt it has been played uninterruptedly somewhere on the globe. More than half a million people have seen the piece so far. The debut was in the Theatre of Haarlem on October 26, 2012.
With Tygo Gernandt (Tom, lawyer), Guy Clemens (Peter, municipal officer), Thijs Römer (Martin, director), Sieger Sloot (Joep, politician) and Olinda Larralde Ortiz (call girl). Directed by: Rijnders Gerardjan. Producer:
→ hummelinckstuurman.nl
.
Meanwhile CLOACA was in The Netherlands in 2002, in the UK in 2004, in Germany and Spain in 2006, in Switzerland and Austria in 2007, in Argentina in 2008, Brazil in 2009, in the U.S., Colombia and Chile in 2010, in Venezuela in 2011, in the Czech Republic, Romania and back to The Netherlands in 2012. CLOACA will be played in France, Puerto Rico and The Netherlands in 2013.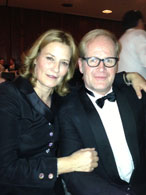 Berlin Theatre Award to Actress "Der letzte Vorhang"
The Berlin Theatre Club has announced that Suzanne von Borsody has received the "Goldener Vorhang" prize for her role as Lies in "Der letzte Vorhang" (de German version of "DOEK!"). The award was presented on December 1st during a gala dinner at the Renaissance Theatre of Berlin.
… read more (in German)
.

"OUMI"
In April 2011 "OUMI" went in premiere. A monologue for Nasrdin Dchar in which he talks about his mother. The piece was to have great success enjoying full boxes until the end of 2012.
→ www.mariagoos.nl/Oumi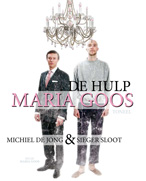 "DE HULP"
"DE HULP" is about the question: Is friendship possible between a rich man and a poor man? Between a believer and a non believer? This black comedy about money, men and friendship went on stage for the first time in September 2011 and will be played again in March and April, 2013.
→ www.mariagoos.nl/dehulp
Baraka in Argentina!
Until December 2009 inclusive,
Baraka
(=Cloaca) is staged in Buenos Aires, Argentina in the
Teatro Metropolitan
.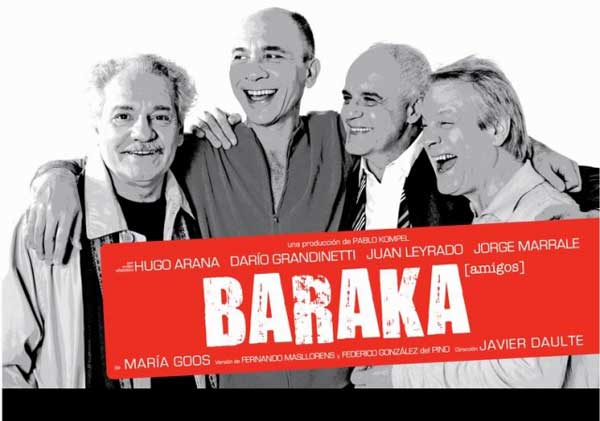 The well-known Argentinian actors Hugo Arana, Darío Grandinetti, Juan Leyrado en Jorge Marrale play the parts of the four friends in
Baraka
. The director is Javier Daulte.
A visitor writes to the paper
Clarin
: 'This weekend we went to see
Baraka
, a delight made as a play by Maria Goos'. The prestigious
Teatro
says: 'Baraka, a cruel game of friendship. This play has wonderful comic moments and proces the talent of its author'. The paper
La Nacion
: 'Female look of the world, the play in its structure has all the elements to impose itself as a great play'.
Baraka
is a huge success in Argentina. The play was honoured with several prestigious prizes for theatre, called ACE (
Asociacion de Cronistas del Espectaculo
)
Best comedy - Maria Goos
Best actor in a comedy - Jorge Marrale
Best director - Javier Daulte
Best production - Pablo Kompel
(he has received the prize for several of his productions)
Golden ACE - Jorge Marrale
De Geschiedenis van de Familie Avenier (The history of the Avenier' Family) is a four part drama series for theatre, written by Maria Goos for Het Toneel Speelt. It is a saga on a very Dutch - working class slowly becoming middle class - family and their struggle with time and generations, from 1956 onwards. Part 1 and 2 premiered in January, 2007. Part 3 and 4 in March 2008.
From September 2008 onwards, the four parts will be presented together, in one go!
Swiss version of
Alte Freunde (Cloaca)
in theatres! On February 14, 2007 the show premiered.
Until December 7, 2007 inclusive, the play is to be seen in various theatres all over Switzerland, starring Josef: Stefan Gubser, Peter: Hanspeter Müller-Drossaart, Tom: Laszlo I. Kish, Martin: Andrea Zogg and Frau: Mona Petri, in regie van Stefan Jäger. Please read
the (German) press quotes
.
Baraka (Cloaca) on stage in Spain!
From October 2006 until mid January 2007 inclusive, Baraka visits various Spanish cities.
100.000 cinema goers have seen the feature film Leef! by director Willem van de Sande Bakhuyzen and writer Maria Goos; it has received a Golden Film Award on March 1, 2006.
The play
Cloaca
is travelling the world - the German version
Alte Freunde
by director Dietmar Pflegerl has premiered on February 26, 2006 in the
Renaissance Theater
in Berlin. On March 18, 2006 director Jos van Kan presented his version of
Alte Freunde
to the press in
Theater am Domhof
in Osnabrück. Please read
the (German) press quotes
.
On April 21 2005 Maria receives a prestigious Dutch decoration De Gouden Ganzenveer for her contribution to the Dutch dramatic language and culture.
In the spring of 2005, Maria writes on a new trilogy for theatre company Het Toneel Speelt. The working title of the play is The history of the Avenier family.
The feature film Leef!, written by Maria Goos and directed by Willem van de Sande Bakhuyzen, premieres during The Netherlands Film Festival on September 28, 2005.
"... the people, also British people are enjoying the show intensely. That's what Kevin told me, that's what Jeremy and David told me and that's what Dutch friends of ours, who saw the show a few days after our awful press night, told me. They are responding to the show with rounds and a warm applause.
Now my question is: how can this be? How on earth is this possible! ..."
Please read a part of the email Maria Goos has sent concerning Cloaca in The Old Vic
. From Maria Goos' Dutch Online diary, October 5 2004.
"... They are the hit of Dutch theatre, the Cloaca-club. Pierre Bokma, Gijs Scholten van Aschat, Maria Goos, Peter Blok and Willem van de Sande Bakhuyzen. Friends since drama school, immortalized as a group in the play Cloaca. 'This is about us.' ..."
Please read Joost Ramaer on Club Cloaca
. Source: Dutch newspaper De Volkskrant, August 26 2004
The television film Cloaca is awarded with A Dutch Academy Award for Best Television Drama 2004 on September 30, 2004.
Cloaca by Maria Goos, premieres in the renovated Old Vic Theatre in London on 28th September 2004. Kevin Spacey directs the play. Actors Hugh Bonneville, Neil Pearson, Stephen Tompkinson, Adrian Lukis and Ingeborga Dapkunaite perform.